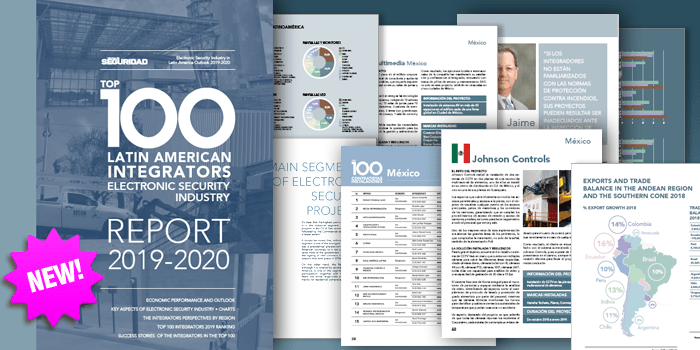 New: Addendum with the latest Ranking by Region 2020 and the economic outlook in the face of Covid-19
In the report TOP 100 Latin American Integrators of the Electronic Security Industry 2019-2020 presents, together with the results of the ranking, the success stories of the integrators in the different regions, as well as the observations of technology trends, and recommendations for opportunities of investment in 2020, in the words of the same integrators consulted.
The ranking includes 30 companies from Mexico, 15 from Central America, 35 from the Andean Region and 20 more from the Southern Cone.
Aimed at Integrators of the Electronic Security industry, manufacturers and distributors, analysts, consultants and market researchers, among others, this report also analyzes how the economic landscape of the region would impact the electronic security industry, country by country, from the perspective of the integrators of the TOP 100.
• Do you want to access a copy only for yourself?

You can read the report via the ISSUU platform for only US $110.