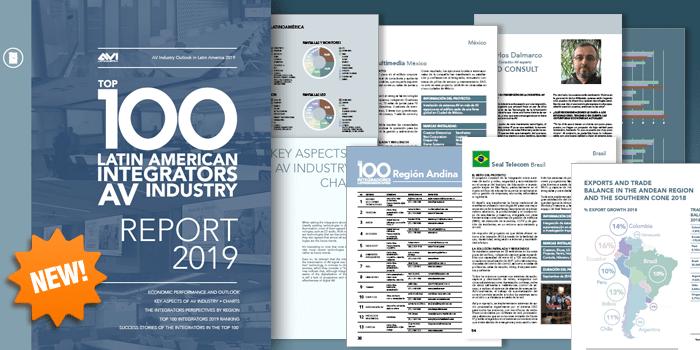 New: Addendum with the latest Ranking by Region 2020 and the economic outlook in the face of Covid-19
Available for sale, in which the current state of the Latin American audiovisual market is analyzed, as well as the macroeconomic circumstances of the region that would impact this industry.
This report is the result of the 2019 edition of the Top 100 Latin American AV Integrators, which covers 20 companies from Mexico, 15 from Central America, 25 from the Andean Region, 20 from Brazil and 20 more from the Southern Cone.
As a novelty in this edition, interviews with expert consultants in the AV industry are included, such as the Brazilian Carlos Dalmarco of CD Consult and Erick López of Universidad Escuadra, who expressed their perceptions about the market and the immediate challenges that integrators have, such as need for professionalization and creation of alliances with industries such as Information Technology.
• Do you want to access a copy only for yourself?
You can read the report via the ISSUU platform for only US $110.